Welcome to Seles GmbH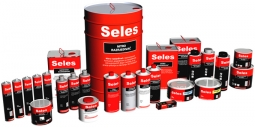 About us
SELES is a trademark of products that are result of years of market research. Respecting the wishes and needs of our customers we have created a brand that represents high-quality products designed for professional use.
Seles GmbH Team
Our product lines

Polyester putties
Polyester putty SOFT is two-component polyester putty for carbody of personal and commercial vechicles. Fine body filler easy to work, characterized by good shaping properties in any required thickness.

Underbody protections
Underbody protections are overpaintable anti corrosion and sound deadening properties based on rubber and resins (for air-line fed gun) or bitumen based (for brush or air-line fed gun). Fast drying. After the product has completely dried remains a durable elastic film. These products offer good protection against various climates and gravel.

Sealants
Seam sealants with excellent adhesion to many substrates. The product is resistant to ageing, weather and is impermebale to water.

Windshield adhesives
Windshield adhesive is a fast curing one component polyurethane adhesive for application with or without primer.

Polish Compounds
Seles compounds help us to quickly remove sanding scratches, spot repair defects or for reconditioning of weather worn coatings to high gloss.

Thinners
Seles thinners are high quality products with balanced formulations for diluting different kind of paints, lacks and car paints.
Latest news
04/11/10

Company Seles GmbH has started working. Main goals of Seles Gmbh are product development and organization of production under...
Contact info
Seles GmbH
Eschersheimer Landstraße 1-3
D-60322 Frankfurt am Main
DEUTSCHLAND
tel: +49 (0)69 90 500 388
fax: +49 (0)69 90 500 758